Hi everyone, HAPPY NEW YEAR and welcome to my blog.
I have some brilliant news to share with you.
Today I am honoured and privileged to showcase my very first layout for BERRY71BLEU DESIGN TEAM
for their first challenge for 2015!
The challenge this month is THINGS WITH WINGS.
If you know my work you will know that I love butterflies, so this challenge is right up my street. I have also added a little bird, and two larger angels all of which I made from paper clay.
HERES HOW
Print out the digital papers, choose embellishments and cardstock
Using paper clay, make two angels, one bird and some butterflies
If making flowers, make them now
Take a 12x12 sheet of blue cardstock for the background
Print out a coaster 7.5 x 7.5 inches
Matt onto a piece of white cardstock, 8 x 8 inches
Print out a photo 4 x 4 inches
Matt onto white cardstock 4.5 x 4.5 inches
Matt again onto blue card 5 x 5 inches
Print out five coasters 3.5 x 3.5 inches
Matt onto white card that measures 4 x 4 inches
Start to embellish by adding white flourishes as per layout
Add assorted flowers, butterflies, little bird, lacy leaves, angels and swirly pearls
Print out a title and adhere as per my layout
Write up some journaling, mine is hidden.
SCRAPPY STASH
Cardstock, white, aqua blue, pale green and pale brown
Digital papers - Old Coaster
Die-cut flourishes and lace - Heartfelt Creations
Handmade flowers - Heartfelt Creations die
Here is the link for these beautiful coasters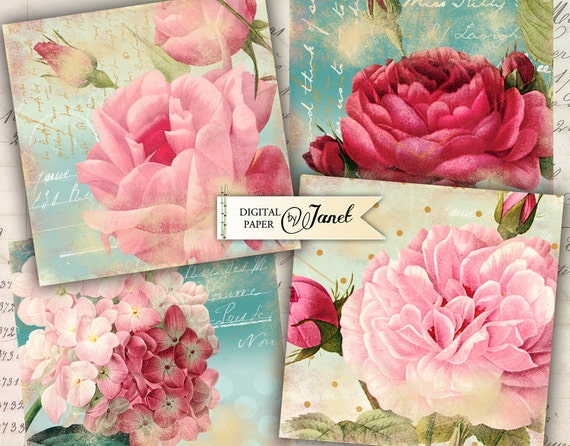 https://www.etsy.com/listing/173803960/old-coaster-1-4-x-4-inch-set-of-4-cards
xxx
So without further ado, here are our sponsors and prizes.
Thank you to our sponsors for providing beautiful prizes this month!


1st Prize:
3 products by digitalPAPERS chosen by the winner
https://www.etsy.com/shop/bydigitalpaper
Random Prize:
Set of Tandi Art prints and cards
http://tandiart.blogspot.ie/
Sponsors:
digitalPAPERS
This online shop was set up by amazing graphic designer - Janet who works on graphics many hours daily, so that customers can always be pleased when buying her digital papers. For many years Janet has been collecting old postcards, photos, illustrations and she uses them to make her beautiful digital papers. She also like to draw. Many of her illustrations Janet drew herself.
Etsy Store:
https://www.etsy.com/shop/bydigitalpaper
Facebook:
https://www.facebook.com/bydigitalpaper
Twitter:
http://twitter.com/madebyjanet
TandiArt
Mixed media art, home decoration and workshops with a little bit of magic:) This dreamy art work is created with heart and soul by
Sylwia Gryczuk
.
Please note that if the winner(s) of this challenge are international they will be responsible for shipping costs. Make sure you follow our
CHALLENGE RULES
.
Thank you and we hope to see your beautiful creations!
We appreciate each and every challenge entry and share the designs that catch our eye on our
facebook page
and
Pinterest Boards
. Look for your work there!
MANY THANKS FOR VISITING TODAY